IEP/Eval Color Coding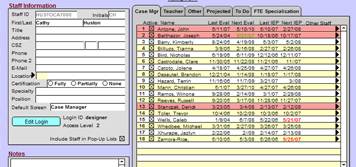 As seen to the right and below, the next IEP and evaluation dates fields are now color coded. Depending on the district preferences, the color of the dates will change to green when the IEP or evaluation should be started and red when the due date is getting very close.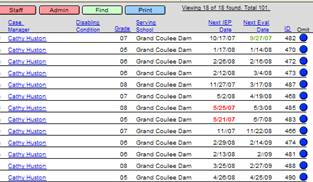 In addition, the next evaluation date will turn yellow if the student is developmentally delayed and is within 60 days of his/her 9th birthday.
The range of days that determine when the dates turn red or green can be adjusted to the districts preference on the main Admin preferences screen shown below. The defaults are also shown in the image below.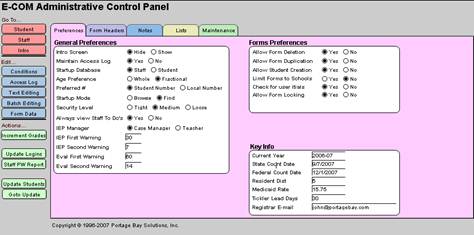 Spanish Language Forms
Three forms are now available in Spanish: Prior Written Notice/Notice of Action, Consent for Evaluation, and the Notice of Intent to Reevaluate.

On these three forms, the form palette has a new 'View in Language' popup menu that lets you select Spanish and then click 'Go' to view the Spanish version.

The pop up lists on the Spanish language version show both Spanish and English values.

The Spanish and English forms are separate forms, so if you need a Spanish language version, you must complete that form independently of the English form.
Student screen
There is a new ESY checkbox on the student screen.
Reports screen
The reports screen has a new button for printing Avery 5160 style mailing labels.
Set goal and Ealr/gle features
The Set Goal and EALR/GLE button on the goals and objectives form have been revised. Please see the v5.06 User's Manual (pages 23 and 24) for details on these features.
Guidance for Eval
The Indiv Eval form and the Goals and Objective form have been modified so that there is a new 'Guidance' field on the Eval form. Any text entered in this field will be visible to staff members working on the G&O form. This is informational only and does not appear on the printed form.
Initial Eval Dates
The Initial Eval Date now appears on the student cover sheet report.
Powerschool Import
Support for automated student data imports from Powerschool has been added.
Wespac Import
The WesPAC student data import has been improved and several new fields are being imported, including serving school and all street and mailing addresses.
Staff members and schools
Staff members can now be assigned to more than one school via the 'Schools' tab on the staff data entry screen.
passwords
Staff members can now change their own passwords via the 'Edit Login/Password' button on the staff screen.
Duplicating locked forms
Duplicating a locked form will now create an unlocked duplicate.
IEP/Eval Date warning
IEP/Eval date warning can be disabled for individual forms where it might be unnecessary. This can be done from the forms listing screen.
---